Meet Dr. Hattan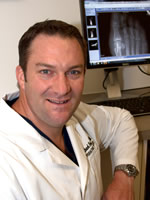 Dr. Hattan is a board certified podiatrist. He completed a three year residency in Podiatric Medicine and Surgery at Long Beach Memorial Medical Center where he specialized in adult and pediatric reconstructive surgery of the foot and ankle, diabetic wound healing, limb salvage, and trauma. Prior to this, Dr. Hattan received his formal education at California School of Podiatric Medicine at Samuel Merritt College in Oakland, California.
Dr. Michael Hattan is a military veteran having served with a US Marine Corps Special Operations Unit. While serving Dr. Hattan was highly decorated and received several commendations. He was also an Expert Parachutist and Navy Combat Diver. This service as a Combat Corpsman (medic) helped Dr. Hattan realize his passion for medicine which led him to Podiatric Medicine and Surgery.
Dr. Hattan was the Chief Resident of the Long Beach Memorial Surgical Residency. Currently, he remains involved in academic teaching as an Attending Surgeon/Faculty to the Long Beach Surgery Residency and Assistant Clinical Professor of Surgery at Samuel Merritt University. He also serves on the Executive Board of Directors at the California School of Podiatric Medicine at Samuel Merritt University
In addition to taking care of patients, Dr. Hattan is very involved with his community. He sponsors the YMCA triathlon club and serves on the board of directors at the Newport Beach Back Bay YMCA. He also supports many local school events.
Dr. Hattan has been married since 1993 to Wendy and they have two daughters Heather and Sara.
Insurances Accepted
Medicare and most PPO insurances accepted. Please check with your carrier prior to your visit to confirm coverage.
Please note it is your responsibility to know your insurance plan and to verify coverage.
We are NOT in-network with the following coverages:
Anthem Pathway PPO
Anthem Pathway Tiered
Anthem EPO
Anthem Select PPO
Any Anthem with prefix JQM, JQN, VXD, JQY
Hospital Affilations
Hoag Memorial Hospital Presbyterian
Long Beach Memorial Medical Center
Miller Children's Hospital
Professional Associations
American Board of Podiatric Medicine
Current Chairman of Podiatry HOAG Hospital
Associate, American College of Foot and Ankle Surgeons
Orange County Podiatric Medical Association
California Podiatric Medical Association
American Podiatric Medical Association
California College of Podiatric Medicine Alumni and Associates